Welshpool Town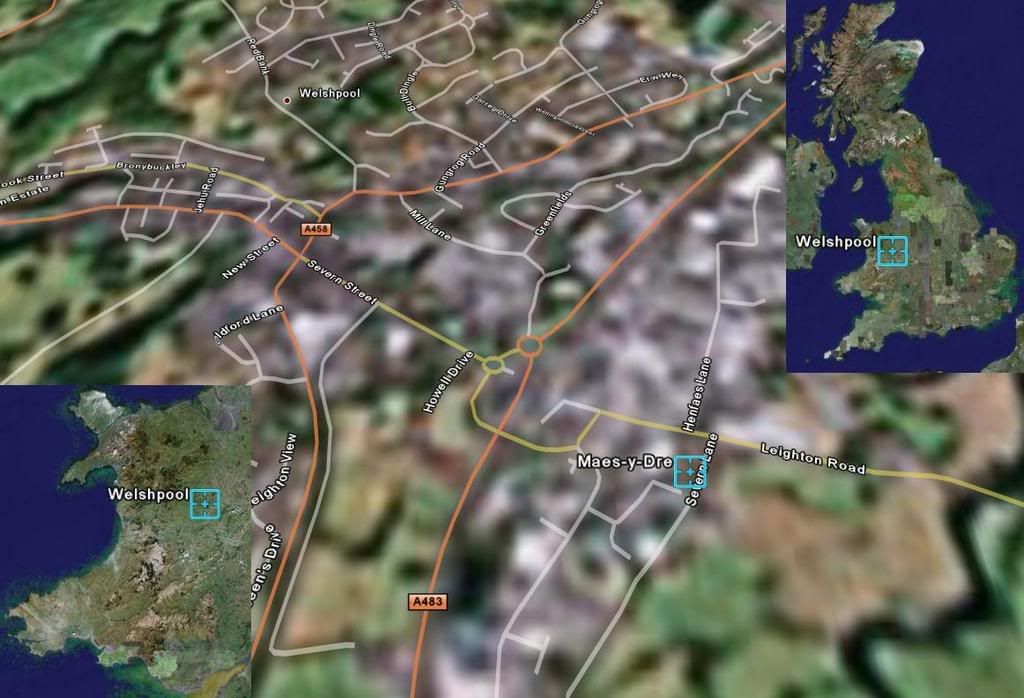 Founded 1878
Ground: Maes Y Dre Recreation Ground
Capacity: 1000 (250 seated)
Nickname: The Lilywhites
Admission:  £5 adult, £3 student/OAP


Welshpool (Welsh: Y Trallwng) is a town in Powys, Wales, only 4 miles (6 km) from the border with England. It has a population of 6,269 (2001 census).
Welshpool is a low-lying town upon the River Severn. The Welsh name Y Trallwng literally means 'the marshy or sinking land'. In English it was initially known as Poole but changed to Welshpool to distinguish it from Poole in Dorset.
Welshpool contains much Georgian architecture. Just south of the town is Powis Castle.
Welshpool served briefly as the capital of Powys Wenwynwyn after its prince was forced to flee the traditional royal site at Mathrafal in 1212. After 1284 Powys Wenwynwyn ceased to exist.
Welshpool is served by the Shrewsbury to Aberystwyth Cambrian Line of Arriva Trains Wales. The town is also the starting point of the Welshpool and Llanfair Light Railway, a narrow-gauge heritage railway popular with tourists. The semi-disused Montgomery Canal also runs through Welshpool. To the south of the town is the Welshpool aerodrome, now known as Mid-Wales Airport.
Welshpool's Town Hall clock face is illuminated in green on some faces and nobody knows why.
Hedgehog crisps were credited as being invented in Welshpool, by Mr Lewis, who ran The Vaults pub, based on Welshpool's High Street on the site that is now the One Stop Convenience Store. He went on to market the product nationally and set up a factory in the town, becoming a millionaire. It was sold to the groups controlling Benson crisps. Mr Lewis later lost his fortune and became the French teacher in the local high school before retiring to France.

How to Get There

On the A483, take the signs for town centre at the railway station roundabout. Right over the mini-roundabout and almost immediately left is the entrance to the ground on Howells Drive, signposted Maesydre Recreation Ground.
Map to Maesydre
Parking: Plenty of car parking at ground.
Nearest railway station: Welshpool (0.1 miles)

Rivals: Newtown, Aberystwyth, Bangor City, Caersws, Cefn Druids, Rhayader, Caernarfon, Porthmadog
History

Football has been established in Welshpool since 1878 following a match the previous year between a town selection and Newtown's Second X1. This match resulted in a 0-0 draw but Welshpool went one better in the year of their formation by winning 2-1 at their rival's ground.

The club changed its name in the first 10 years, firstly to Welshpool Wanderers and then to Welshpool Warriors, although the latter may well have been a separate club.

The town was first represented in the Welsh Cup in 1885 but the result was a crushing 0-8 victory for visitors Oswestry White Stars, the Cup holders, who went on to reach the final. At that time, Welshpool played at Foundry Field before moving to the Recreation Ground in 1895.

Welshpool AFC was re-established in 1889 and after one season as Welshpool United in the original Welsh League entered the Shropshire League in 1897-98, but how long they stayed in membership has remained elusive.

They joined the combination for two seasons in 1907 but resigned probably due to the travelling costs involved.

Their League history after 1910 when they left that league is something of a mystery and they surfaced again as members of the National League framework in 1921. They won the Central Section title in that first season but were not promoted. The move up to the First Division (North) came at the end of the 1924-25 season after they finished runners-up to Llanidloes Town. They were relegated without winning any honours at the end of the 1928-29 season and returned to Mid-Wales football.

They remained there until the mid 30s when their fate becomes unclear. On the resumption of organised football after the Second World War, Welshpool spent the first two seasons in the Mid-Wales League before moving across to the Welsh National League (Wrexham Area) in1949-50.

Welshpool were champions in 54-55, 56-57, 61-62 and 64-65 before returning once more to the Mid-Wales League for the 1965-66 season.

Subsequently there began a long period of success, winning seven championships between 1968 and 1980, taking the League Cup on five occasions and the Central Wales FA Cup five times. In 1971-72 they won the Welsh Amateur Cup by defeating Aberystwyth Town 1-0 at Newtown. They were to win it again in 1977, beating Whitchurch Alport 4-1, in 1983 by 4-3 against Brymbo Steelworks and in 1984 1-0 against Caersws after a 1-1 draw.

Moving up as founder members into the Cymru Alliance League in 1990 they finished a creditable seventh in their first season. A magnificent 1991-92 season saw them finish on top, 12 points clear of their nearest rivals. Disaster then followed when they were controversially docked a massive 66 points for fielding a player under suspension in England. This dropped them to bottom spot and presented the title to Caersws.
Undaunted, they came back strongly to finish second to Llansantffraid the following year.

With the League of Wales their main goal, they continued the momentum and finished second again in 1993-94, but beat champions Rhyl 2-1 in the League Cup final at Wrexham. They regrouped in 1994-95, finishing ninth but won promotion the following year when they again finished second. This time the title went to Oswestry Town by one goal but the champions failed to meet League of Wales ground criteria and Welshpool Town AFC were promoted. They changed their name to Welshpool Town and despite a sprightly start slumped by the season's end to a position just outside the relegation zone. The next season was another of struggle with Welshpool in the bottom three for most of the season. They were eventually relegated and finished second from bottom.

They finished eighth in their first season back in the Cymru Alliance League.

During the 1998-99 close season a new executive committee was set up and a more local policy was introduced with plans to return to the League of Wales over the next few seasons.

The close season saw the installation of Russell Cadwallader as manager and that appointment bore fruit in his first season. The club finished fourth in the league and won the League Cup, the Central Wales Cup and for the first time in 50 years the Montgomeryshire Cup.

The 2000/2001 season saw a slight improvement in the league with the club finishing in third place and reaching the last 16 of the Welsh Cup for the first time for many seasons, they were also runners-up in the League Cup. The semi-finals of the Montgomeryshire Cup and Central Wales Floodlit Cup were also reached but these competitions were not completed due to the foot and mouth epidemic.

Season 2001/2002 was extremely successful with the club achieving its prime objective – promotion to the League of Wales. The Central Wales Cup was again won by beating Kerry. Welshpool lost in the carried over final of the Central Wales Floodlight Cup, going down on penalties to old rivals Caersws. The Montgomeryshire Cup competition from the previous year was cancelled.

During 2002, the ground was upgraded to meet the criteria set by the League of Wales. Off the field the club became a limited company under the guidance of managing director Steve Hughes.

The first season back was not a success and Town finished in the second relegation spot.  However, because Neath AFC failed to meet the Welsh Premier's ground criteria for admission, Welshpool appeal against relegation and were reinstated.

They improved slightly in 2003/4 to 15th place, to ensure another season of Premier football at Maes-Y-Dre, but still parted company with manager Russ Cadwallader at the end of the campaign, appointing the experienced Tomi Morgan as replacement.

The experienced Morgan produced a substantial improvement as the mid-Wales Lilywhites secured their highest-ever finishing position in the Welsh Premier and a place in the FAW Premier Cup, The Maesydre club were also successful in attaining a National Club Licence.

2005-06 season was another successful season with the club being in the top four of the league most of the season and vying for a UEFA Cup place. A spate of injuries and consequent bad run of results in the last few games of the season saw the club finish in 6th position with Carmarthen Town just edging the European place.  This season sees some new signings and hopefully another push for a European place.

Honours

Welsh Amateur Cup winners:     1971-72
Welsh Amateur Cup runners up:    1965-66, 1967-68, 1970-71
Welsh Intermediate Cup winners:    1976-77, 1982-83, 1983-84
Cymru Alliance League champions:    2001-02
Cymru Alliance League Cup winners:    1993-94, 1999-2000
Mid-Wales League :    1967-68, 1968-69, 1970-71, 1972-73, 1974-75, 1976-77, 1979-80
Central Wales Challenge Cup:    1969-70, 1970-71,1973-74, 1976-77, 1979-80, 1980-90, 1993-94, 1995-96, 1998-99, 1999-00, 2000-01, 2001-02
Links

Contact Details
Maes Y Dre Recreation Ground, Howells Drive, Welshpool, Powys
Mr. Michael Bloom, Farthing Gates, Severn Lane, Welshpool, Powys, SY21 7BB.
Tel: 01938 555567
Email: mikebloom@wpg-group.com